Customize the Look & Feel of Your Flipbooks with Enhanc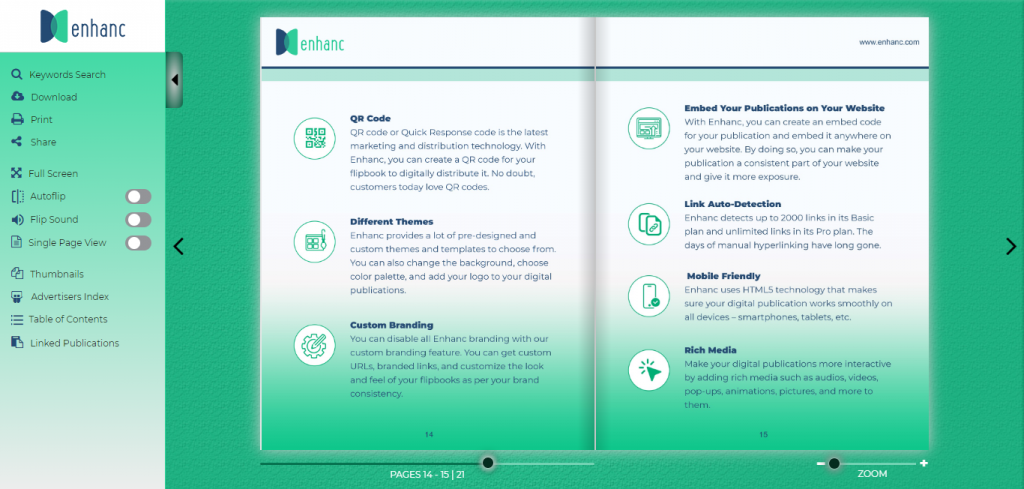 Enhanc provides you with a lot of branding and customization options to help you make a unique and impressive identity on the internet.
You can present your content in accordance with your brand and look professional.
Enhanc lets you can create a consistent brand image with the help of visually stunning themes and backgrounds, custom color palettes, logo and favicon, and custom domains.
Themes and background
Enhanc offers a lot of themes and backgrounds to choose from. Whatever industry you hail from, you can find a theme that can suit your business at Enhanc.
Color palette
You can choose from a range of color palette. Enhanc offers different color palettes that can complement your brand's style.
Logo & Favicon
You can further enhance your brand awareness and identity by placing your company logo and favicon on your digital flipbooks.
Custom domains
You can remove all the branding of Enhanc even Enhanc's URL. You can use your company's domain name. This way you can send traffic to your site and also make your digital flipbooks look custom-made.
With the above customization and branding settings, you can surely control the look and feel of your publications.
Are you ready to get started?
You can create your own unique branded digital flipbook today with Enhanc. Enhanc now offers a 15-day free trial!