Choose Enhanc to convert PDFs to Flipbooks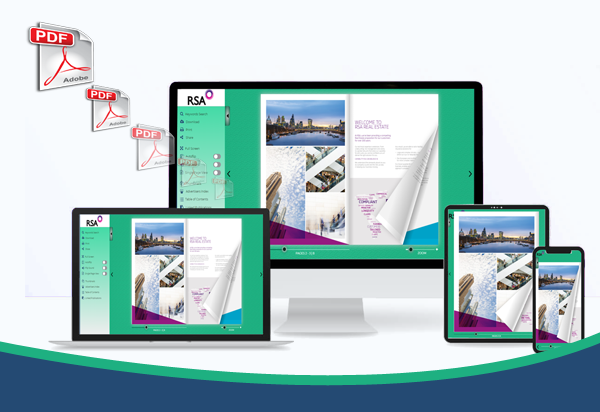 When it comes to digital publishing, PDF has been around the longest. It's been a staple in this industry for decades and its history goes back to the early days of desktop publishing. But as with all things getting technologically advanced with the passage of time, it is time for an upgrade.
PDF stands for Portable Document Format and was created by Adobe in the early 90s to help companies send documents to clients in a way that couldn't be altered (or at least, not easily). PDFs are secure files, which is why they're still so common today.
But, just because they're somewhat secure doesn't mean they're a great way to display your content online. A PDF file will open only one page at a time so readers have to wait for each page to load. This can be a real drag if your publication has lots of images or any heavy graphics.
If you want to take full advantage of all the benefits that a PDF has to offer, we recommend converting your PDF files into flipbooks using Enhanc. Flipbooks are pages of content that you can flip through on screen. They give you a sense of using an actual book or brochure. Flipbooks give people a better reading experience and make them more likely to stick around and read what you have to say, which is great when it comes to marketing.
Flipbooks are way better than PDFs
There are several reasons why it's better to convert PDFs to flipbooks. A few of the most common reasons include:
Better Customization 
Flipbooks can be customized with your logo, colors, and branding so that they will feel like a natural part of your website. This creates consistency and helps build trust with your visitors.
Better for SEO 
You can optimize your flipbooks to make them rank better on search engine results by optimizing the titles, descriptions, and keywords of your flipbooks.
Better Navigation 
PDF files can be difficult to navigate, whereas flipbooks are easy to search within and easy to jump from page to page using the navigation arrows on either side of the screen or the table of contents (TOC).
More Secure
You can manage user access and password-protect your flipbooks. You can customize the privacy settings. 
Mobile-Friendly 
PDFs give a very frustrating reading experience on mobile devices. Users have to constantly zoom in and out to read text and view images. On the other hand, flipbooks display well on any screen size and device without requiring readers to download anything or zoom in to read text. 
More Engaging
Flipbooks are highly interactive and engaging. It can have animations, music, videos and other multimedia content that keep readers' attention for longer periods of time than a PDF does.
Easy to Create
You don't need expensive software or specialized skills to convert your PDF into a flipbook. All you need is the PDF itself and an online platform like Enhanc that transforms it into a flipbook automatically.  Create your Digital Flipbook In 4 Simple Steps now.
Ad Ready 
Unlike PDFs, you can create an advertiser index for your flipbooks, making them more profitable than their static counterparts.
Choose Enhanc to convert PDFs to flipbooks
Enhanc is user-friendly and intuitive. It offers the most number of features in the market at unbeatable prices i.e. $15 per month. You can see for yourself how powerful Enhanc is by taking a 14-day free trial today.